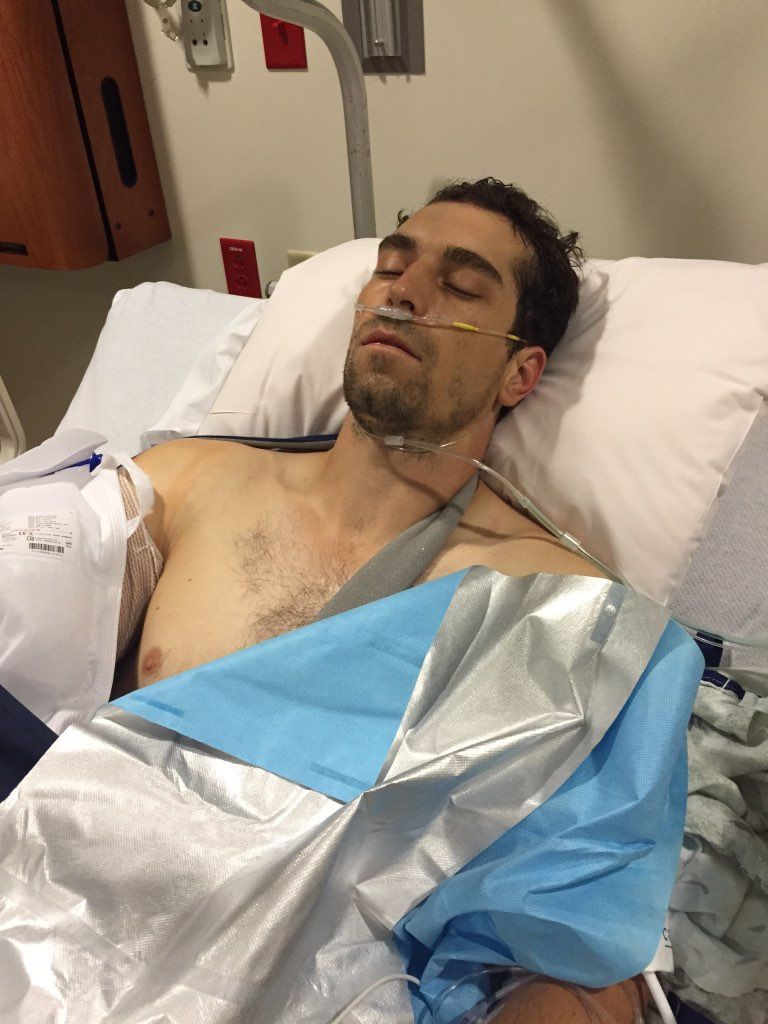 The Incredible Story of Eddie Belk
By Bill Rogan
A harrowing saga and improbable comeback tale of the Browns now ambidextrous pitcher
On a gorgeous Sunday afternoon in late August 2015, the LoHi Browns were one strike away from beating the Marlins and advancing to the league championship game in the Denver 18 A Division of the National Adult Baseball Association.
Eddie Belk, 25, a tall right-hander, had come in to pitch in the 6th inning and was mowing the Marlins down with relative ease. With a comfortable 6-1 lead, Belk was ready to put his opponent out of their collective misery and end their season.
On an 0-2 count, with the Browns eager to celebrate, Belk was looking to end the game with a flourish. He wanted a strikeout. Little did he, his teammates or anyone in attendance that day at Green Mountain High School in Lakewood, Colorado know that the pitch that Eddie Belk was about to deliver would drastically change his life.....
Eddie Belk grew up in Redlands, California, between Los Angeles and Palm Springs. His father got him interested in baseball when he was four and he played on his first real team in first grade.
The competitive Eddie played every sport available as a kid, paring it down to football and baseball in high school. After his sophomore year at Redlands East Valley High School, he dropped football to concentrate on baseball. Unfortunately, tendinitis wrecked his junior season but he still was able to play a ton of golf outside of school and got his handicap down to single digits.
His parents, David and Patricia worked for the Redlands School District and enjoyed watching their son compete. They retired after 30-years of service following Eddie's graduation. He also has an older brother, Jason, and an older sister Jill.
Growing up Eddie, like most kids, dreamed of playing in the big leagues. He was a fan of the Angels. The closest he got was playing a game in Dodger Stadium in high school. He did have a teammate make it to the Major Leagues however. Eddie caught future big leaguer Tyler Chatwood for the Redlands Valley East Wildcats.
With baseball in his blood, Eddie continued playing in amateur leagues, in addition to earning a living. He worked for JB Hunt and moved to Denver in 2014 after getting a promotion. He looked for a league to play in and found the National Adult Baseball Association.
Which brings us to the final pitch Eddie would throw in 2015. He had rested his arm for the playoffs and it felt good as he entered the game and sailed into the final frame.
"In the 9th inning my arm felt a little sore but nothing too alarming," Belk said. "Then I threw a fastball outside and my arm got a small surge of pain but I shook it off."
Pitchers arms never feel 100-percent. The mentality is to push through any discomfort. Adrenaline and competitiveness takes over and the time to take care of the arm is after the game. Ice is a pitchers friend. There would be no icing of the arm after this game however.
As an observer to the proceedings, I was anxious for the game to end so my 48+ team could take the field. Let's get these young guys off the field so the old guys can play! I was hoping for an out and the end of the game.
Watching from the first row of bleachers, I saw the pitcher whom I had never met, whose name I didn't know, make his delivery to the catcher. I followed the flight of the ball and it hit halfway up the backstop. That was odd. Immediately, I looked back to the pitcher and was mortified by what I saw.
"I reached back for my best fastball and my arm snapped mid-throw," Belk recalled. "In that moment, I knew my life and my career in baseball would never be the same. When my arm snapped, I could hear a loud crack in my skull. Then I collapsed in agony."
The sight of this young pitcher yelling out in excruciating pain, on the ground, kicking his legs wildly while grabbing his right arm with his left hand was difficult to stomach. His teammates immediate reaction was to run out to the mound to try to help but in reality they didn't know what to do. It was a helpless feeling for everyone watching.
Somebody, thankfully, called the paramedics and, being a short distance from Green Mountain High School, they were there in about 10-minutes...10-minutes that must have felt like hours for Belk. It certainly felt that long for people watching in the stands. The ballpark was silent other than the sounds of pain emanating from the downed pitcher. Some spectators held a hand over their mouth in concern. Others turned away or looked down, unable to watch the frightening scene on the field. Several people were in tears. Both teams were visibly stunned. The umpires looked on helplessly. Once the paramedics arrived they immediately pumped pain killers into Eddie to prevent him from going into shock.
Interestingly, the pain was delayed during the actual pitch. Eddie described what happened.
"As I released the pitch, there was no initial pain but rather I could hear the bone crack within my skull. Then I saw my arm uncontrollably bend opposite of the way it should. Then the pain set in. The pain was very sharp and I could feel the bones grinding every time my arm moved."
At the hospital, Eddie got another jolt of pain. More like mental anguish. The Browns, stunned and devastated by the injury to their pitcher, teammate and friend, actually lost the game. Somehow the Marlins rallied and came back to win. They were happy to win of course, but the celebration was tempered. The injury to Belk was not easy to take for the Marlins either.
"The thing I remember most is being at the hospital and getting the news that my team lost the game," Belk said. "That made the situation even harder to stomach."
For those who think that was the sad end of Eddie Belk's baseball career, think again.
Incredibly, he didn't think his career was over. He knew it would never be the same and he probably would never pitch again. If he decided to quit, who could blame him?
"I had thoughts of hanging it up for good and just playing golf. And I had thoughts of getting back into it."
Surgery was performed by Doctor Ronald Hugate, a renowned orthopedic surgeon out of Highlands Ranch, Colorado. According to Belk, when asked how the surgery turned out, Dr. Hugate told him, "It went well but it was a messy surgery."
Eddie's rehab involved dry needling and intense stretching. It was a difficult, long and stressful rehab. All the arm muscles would tense up and he needed to take muscle relaxer pills just to get his arm to extend.
His family didn't want him to play again, especially pitch. They were supportive of him playing but were rightly concerned.
Eddie did attempt to play the next season.
"It did not go well," he said.
Then he made the decision to come back and throw....left handed!
"I figured it was the quickest way for me to get back on the field," Belk reasoned.
In the fall of 2017, I went to North High School to take some batting practice with my friend Matthew Repplinger, who runs several Browns teams. To my surprise, Eddie Belk was there...throwing left handed. I hadn't seen him since he suffered his injury. I remember going up to the ambulance when he was loaded in and tapping him on the leg and wishing him well. He asked me, a total stranger, to get his phone and belongings and give them to his wife.
When someone suffers a devastating injury they need all the support they can get. Eddie got that from his wife.
"My wife Rachel was the most amazing person throughout the entire ordeal," Eddie stated. "She took care of me completely from the moment it happened up until today."
Now here he was, taking batting practice, throwing left handed and enjoying playing ball on a late October day over two years ago. I didn't want to talk to him about his injury other than to say I was glad he was back on a ball field. He looked happy.
He can now throw about 70 mph left-handed and while it is still a work in progress, he is confident he can pitch lefty. And righty.
He will play for the Mile High Green Elephants aka the Denver Green (a Denver Browns affiliate) this upcoming 18AAA NABA 2020 baseball season and his goal is clear.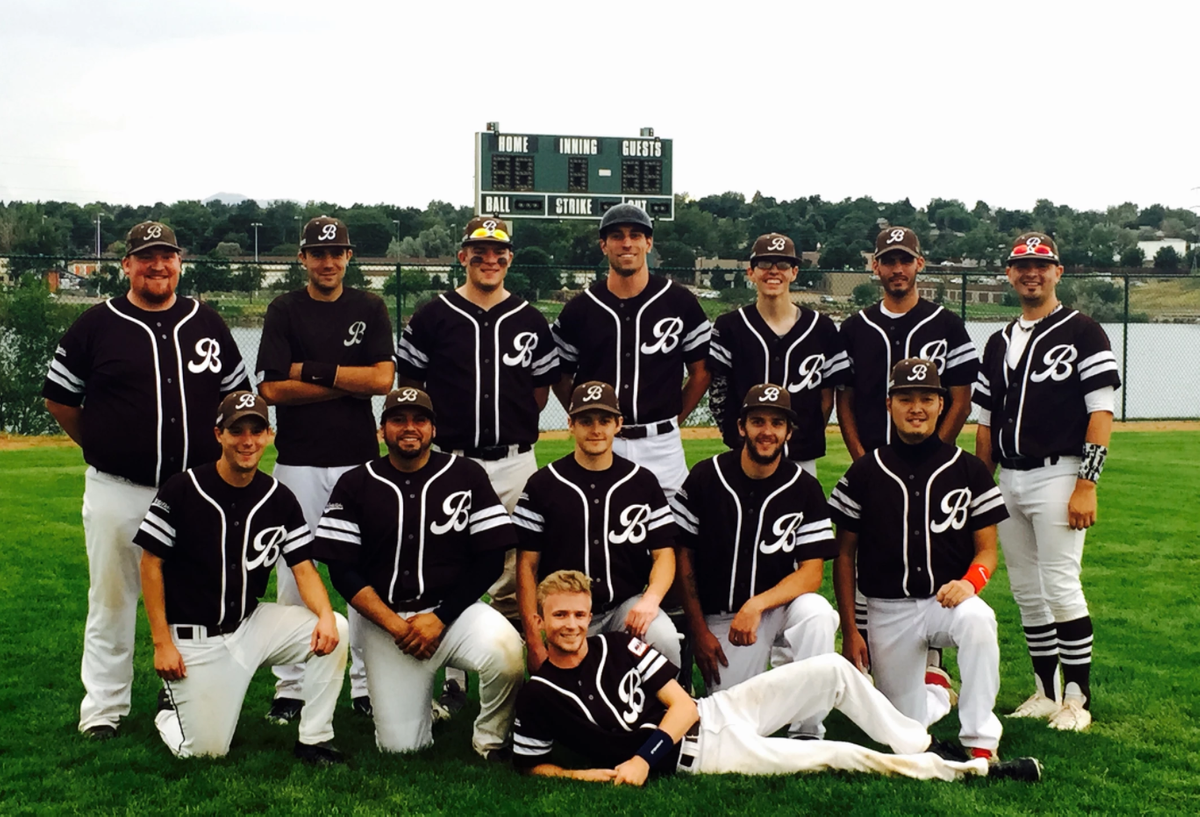 "I plan to play a full season and fully rehab my arm while becoming an ambidextrous pitcher."
Eddie Belk doesn't have to prove anything to anybody. He could walk away and no one could blame him. But it's the game. He loves the game. It's in his heart. I'll be rooting for Eddie Belk in 2020 and beyond. And you will be too.
--
Bill Rogan
Denver, Colorado Manager Santa Fe Fuego / Pecos League Baseball